Little Stars with Butter and Parmesan
When I saw that
Deb
had cooked up some fun, simple pasta with Giada...I
knew
that I was going to invite her back into my kitchen this week to do more of the same. I mean, this one would be impossible to mess up, right? No lemon zest combined with hard boiled eggs. No super sweet, uncooked frosting. Even
Teeth
couldn't put an outrageous
as in gross
spin on tiny, little star-shaped pasta, could she? The integrity and pure comfort factor of warm pasta tossed with soft butter and wisps of freshly grated Parmesan remains intact. Although I think everybody in the house prefers a "bigger" noodle of sorts
{quick, double eyebrow raise}
, it's always fun to break away from the norm and eat cute little pastas in various shapes...it brings out the kid in the adults...and can't fail to touch your heart. Giada and I seem to get along best when we stick to basics like pasta and
polenta
...
and
booze
. I guess we were both winners this week.
Little Stars with Butter and Parmesan
from
Everyday Pasta
by Giada De Laurentiis

makes ~4 (1/2 cup) servings
1 c. (~6 oz) Stelline (little star-shaped pasta) or other small pasta shapes
4 Tbs. freshly grated Parmesan cheese
~2 Tbs. unsalted butter
,
at room temp
sea salt
Bring a large saucepan of salted water to a boil. Add pasta and cook to al dente, stirring now and again to prevent pasta from sticking together, ~8 minutes, then drain.
Toss hot pasta with butter and Parmesan, then add salt to taste. I served with a bit of chopped parsley, for color.
*This post is linked to:
Presto Pasta Nights is being hosted by Rachel of The Crispy Cook this week!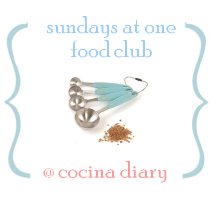 12:00 AM

cookbook Sundays
Giada DeLaurentiis
I Heart Cooking Clubs
IHCC
noodles
pasta
PPN
Presto Pasta Nights
Heather Schmitt-Gonzalez
Michiana-based food, drink, and travel writer with a fondness for garlic, freshly baked bread, stinky cheese, single malt Scotch, and Mexican food—who believes that immersing herself in different cultures one bite at a time is the best path to enlightenment.